VIH
VIH
2016
Improving combination antiretroviral therapy by targeting HIV-1 gene transcription. Expert Opin. Ther. Targets, 2016, 20: 1311–24. Accès à la publication
HIC1 controls cellular- and HIV-1- gene transcription via interactions with CTIP2 and HMGA1. Sci. Rep., 2016, 6: 34920. Accès à la publication
Targeting the Brain Reservoirs: Toward an HIV Cure. Front. Immunol., 2016, 7: 397. Accès à la publication
Reactivation capacity by latency-reversing agents ex vivo correlates with the size of the HIV-1 reservoir. AIDS Lond. Engl., 2016. Accès à la publication
Characterization of new RNA polymerase III and RNA polymerase II transcriptional promoters in the Bovine Leukemia Virus genome. Sci. Rep., 2016, 6: 31125. Accès à la publication
Protein Kinase C-Mediated Phosphorylation of BCL11B at Serine 2 Negatively Regulates Its Interaction with NuRD Complexes during CD4+ T-Cell Activation. Mol. Cell. Biol., 2016, 36: 1881–98 Accès à la publication
Tuning of AKT-pathway by Nef and its blockade by protease inhibitors results in limited recovery in latently HIV infected T-cell line. Sci. Rep., 2016, 6: 24090. Accès à la publication
2015
Sequential treatment with 5-aza-2'-deoxycytidine and deacetylase inhibitors reactivates HIV-1. EMBO Mol. Med., 2015 Dec 17 [Epub ahead of print] Accès à la publication
An In-Depth Comparison of Latency-Reversing Agent Combinations in Various In Vitro and Ex Vivo HIV-1 Latency Models Identified Bryostatin-1+JQ1 and Ingenol-B+JQ1 to Potently Reactivate Viral Gene Expression. PLoS Pathog. Accès à la publication
2014
[CTIP2, a multifunctional protein: cellular physiopathology and therapeutic implications]. Med Sci (Paris). Accès à la publication
HMGA1 recruits CTIP2-repressed P-TEFb to the HIV-1 and cellular target promoters. Nucleic Acid Research. Accès à la publication
Blockade of BFA-mediated apoptosis in macrophages by the HIV-1 Nef protein. Cell Death Dis. Accès à la publication
The many lives of CTIP2: from AIDS to cancer and cardiac hypertrophy. J Cell Physiol. Accès à la publication
2013
Pseudomonas DING proteins as human transcriptional regulators and HIV-1 antagonists. Virol J. Accès à la publication
CTIP2 is a negative regulator of P-TEFb. Proc Natl Acad Sci USA. Accès à la publication
Non-coding RNAs: novel players in chromatin-regulation during viral latency. Curr Opin Virol. Accès à la publication
2012
DING proteins, their biochemical and structural properties, and their ability to inhibit HIV-1 replication. Bull Acad Natl Med. Accès à la publication
Histone methyltransferase inhibitors induce HIV-1 recovery in resting CD4(+) T cells from HIV-1-infected HAART-treated patients. AIDS. Accès à la publication
The level of DING proteins is increased in HIV-infected patients: in vitro and in vivo studies. Plos One. Accès à la publication
Achieving a cure for HIV infection: do we have reasons to be optimistic? J Antimicrob Chemother. Accès à la publication
LSD1 cooperates with CTIP2 to promote HIV-1 transcriptional silencing. Nucleic Acids Res. Accès à la publication
2011
Genome-wide binding map of the HIV-1 Tat protein to the human genome. Plos One. Accès à la publication
Chromatin disruption in the promoter of bovine leukemia virus during transcriptional activation. Nucleic Acid Res. Accès à la publication
Human-Phosphate-Binding-Protein inhibits HIV-1 gene transcription and replication. Virol J. Accès à la publication
The AP-1 binding sites located in the pol gene intragenic regulatory region of HIV-1 are important for viral replication. Plos One. Accès à la publication
2010
DNA cytosine methylation in the bovine leukemia virus promoter is associated with latency in a lymphoma-derived B-cell line: potential involvement of direct inhibition of cAMP-responsive element (CRE)-binding protein/CRE modulator/activation transcription factor binding. J Biol Chem. Accès à la publication
Molecular mechanisms of HIV-1 persistence in the monocyte-macrophage lineage. Retrovirology. Accès à la publication
[Molecular basis of HIV-1 latency - Part II: HIV-1 reactivation and therapeutic implications]. Med Science (Paris). Accès à la publication
[Molecular basis of HIV-1 latency - part I: physiology of HIV-1 latency]. Med Science (Paris). Accès à la publication
HIV-1 regulation of latency in the monocyte-macrophage lineage and in CD4+ T lymphocytes. J Leukoc Biol. Accès à la publication
2009
p21(WAF1) gene promoter is epigenetically silenced by CTIP2 and SUV39H1. Oncogene. Accès à la publication
Synergistic activation of HIV-1 expression by deacetylase inhibitors and prostratin: implications for treatment of latent infection. Plos One. Accès à la publication
2007
Recruitment of chromatin-modifying enzymes by CTIP2 promotes HIV-1 transcriptional silencing. EMBO J. Accès à la publication
2005
COUP-TF interacting protein 2 represses the initial phase of HIV-1 gene transcription in human microglial cells. Nucleic Acids res. Accès à la publication
2003
Regulation of HIV-1 gene transcription: from lymphocytes to microglial cells. J Leukoc Biol. Accès à la publication
Recruitment of Tat to heterochromatin protein HP1 via interaction with CTIP2 inhibits human immunodeficiency virus type 1 replication in microglial cells. J Virol. Accès à la publication
2000
The nuclear receptor chicken ovalbumin upstream promoter transcription factor interacts with HIV-1 Tat and stimulates viral replication in human microglial cells. J Biol Chem. Accès à la publication
Functional interactions between C/EBP, Sp1, and COUP-TF regulate human immunodeficiency virus type 1 gene transcription in human brain cells. J Virol. Accès à la publication
1999
CREB and COUP-TF mediate transcriptional activation of the human immunodeficiency virus type 1 genome in Jurkat T cells in response to cyclic AMP and dopamine. J Cell Biochem. Accès à la publication
Dopamine stimulates expression of the human immunodeficiency virus type 1 via NF-kappaB in cells of the immune system. Nucleic Acids res. Accès à la publication
1997
COUP-TF and Sp1 interact and cooperate in the transcriptional activation of the human immunodeficiency virus type 1 long terminal repeat in human microglial cells. J Biol Chem. Accès à la publication
Characterization of nuclear proteins that bind the regulatory TGATTGGC motif in the human immunodeficiency virus type 1 long terminal repeat. Nucleic Acids Res. Accès à la publication
1996
Chicken ovalbumin upstream promoter transcription factor, a transcriptional activator of HIV-1 gene expression in human brain cells. J Biol Chem. Accès à la publication
Regulation of human immunodeficiency virus type 1 gene transcription by nuclear receptors in human brain cells. J Biol Chem. Accès à la publication

Pr. Olivier Rohr : Pr, PhD. Responsable
Cette adresse e-mail est protégée contre les robots spammeurs. Vous devez activer le JavaScript pour la visualiser. Accès au CV

Dr. Christian Schwartz : Maitre de conférences, MD, PhD, HDR. Co-Responsable
Cette adresse e-mail est protégée contre les robots spammeurs. Vous devez activer le JavaScript pour la visualiser. Accès au CV
EL MEDKAD Hala : PhD, ATER
Cette adresse e-mail est protégée contre les robots spammeurs. Vous devez activer le JavaScript pour la visualiser. Accès au CV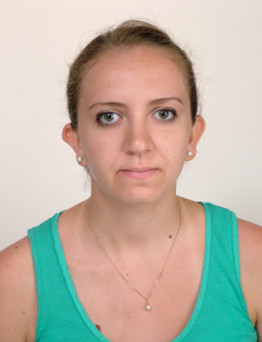 AIT-AMMAR Amina : Doctorante
Cette adresse e-mail est protégée contre les robots spammeurs. Vous devez activer le JavaScript pour la visualiser. Accès au CV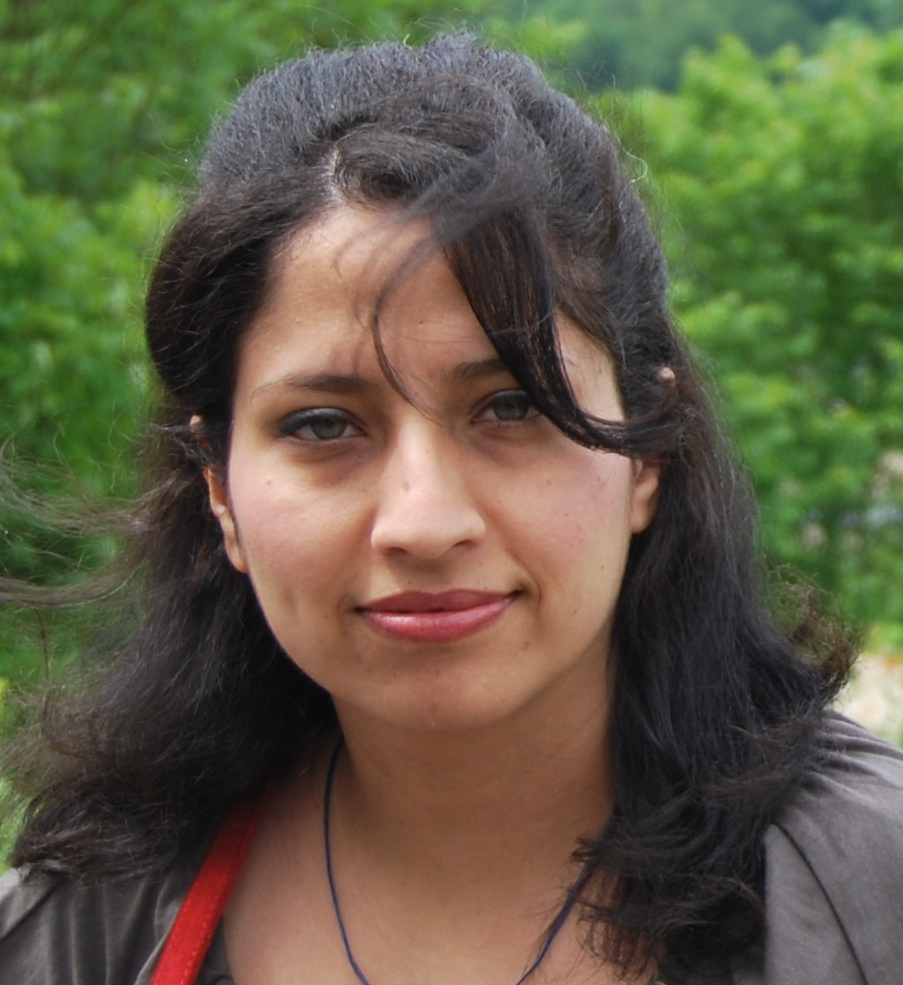 FOROUZAN FAR Faezeh : Doctorante
Cette adresse e-mail est protégée contre les robots spammeurs. Vous devez activer le JavaScript pour la visualiser. Accès au CV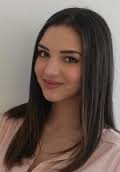 DOUAD Fadoua : Technicienne de Recherche
Cette adresse e-mail est protégée contre les robots spammeurs. Vous devez activer le JavaScript pour la visualiser. Accès au CV
DE ROVERE Marco : Doctorant
Cette adresse e-mail est protégée contre les robots spammeurs. Vous devez activer le JavaScript pour la visualiser. Accès au CV
Le cofacteur cellulaire CTIP2 contribue à l'établissement des réservoirs latents en recrutant HDAC1/HDAC2 et SUV39H1 sur le promoteur viral. HDAC1/HDAC2 et SUV39h1 vont respectivement déacétyler et tri-méthyler la lysine 9 de l'histone H3, établissant ainsi un environnement hétérochromatinien transcriptionnellement inactif.

Recruitment of chromatin-modifying enzymes by CTIP2 promotes HIV-1 transcriptional silencing. EMBO J. 2007. Accès à la publication
---
La Lysine déméthylase LSD1 coopère avec CTIP2 pour établir la latence virale. LSD1 sert de plateforme d'ancrage à CTIP2, qui permet la fixation du complexe de modification de la chromatine précedement décrit, mais aussi permet le recrutement du complexe hCOMPASS, à l'origine de la tri-méthylation de la lysine 4 de l'histone H3.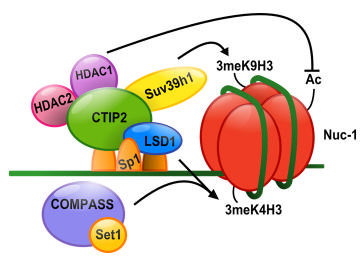 LSD1 cooperates with CTIP2 to promote HIV-1 transcriptional silencing. Nucleic Acids Res. 2012. Accès à la publication
---
Le ciblage thérapeutique de la Histone méthyl transférase SUV39H1 permet de réactiver le virus latent et donc de réduire la quantité de réservoir.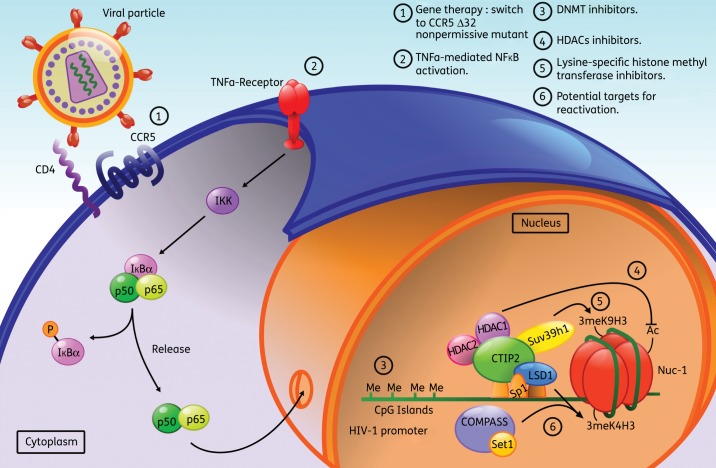 Histone Methyltransferase inhibitors induce HIV-1 recovery in resting CD4(+) T cells from HIV-1-infected HAART-treated patients. AIDS 2012. Accès à la publication
---
CTIP2 contribue également à la persistance des réservoirs en réprimant le facteur d'élongation P-TEFb. CTIP2 est simultanément associé au complexe inactif de P-TEFb et au snRNA 7sk dans lequel il réprime l'activité kinase de la sous-unité catalytique CdK9. Par ailleurs des approches transcriptomiques ont permis de mettre en evidence l'impact de CTIP2 sur la régulation de voies de signalisations intracellulaire impliquées dans la cancérogénèse ainsi que dans l'hypertrophie cardiaque.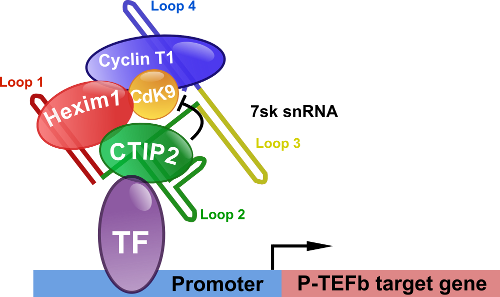 CTIP2 is a negative regulator of P-TEFb. Proc Natl Acad Sci USA. 2013. Accès à la publication
Les stratégies thérapeutiques de type trithérapie permettent de contenir le VIH-1 sans pour autant l'éliminer de l'organisme des patients. Cet échec s'explique par la présence de réservoirs viraux infectés de manière latente et insensibles aux molécules actuellement utilisées. Notre objectif consiste à révéler des cibles thérapeutiques dans un objectif de guérison des patients. Dans ce cadre, nous étudions les mécanismes cellulaires et viraux à l'origine de la latence du VIH-1 dans les réservoirs cellulaires et plus particulièrement dans les cellules microgliales, les réservoirs du système nerveux central. Associé à une trithérapie active, un ciblage thérapeutique des facteurs clés de la latence du VIH-1 permettrait de réactiver le virus présent dans les réservoirs et d'en réduire la quantité. Une réduction significative des réservoirs est le prérequis indispensable à une guérison fonctionnelle des patients.